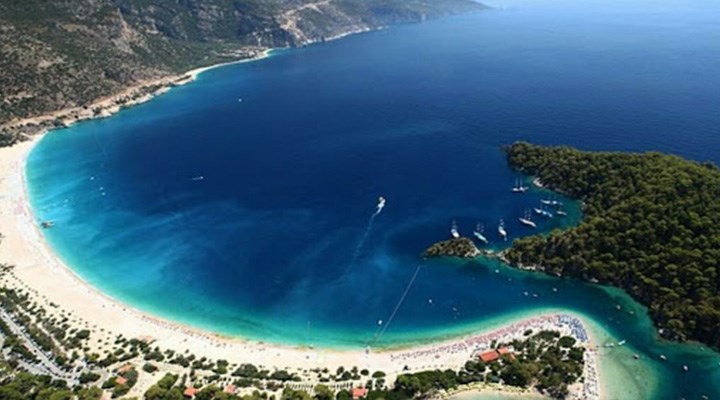 Belcekız Plajı (Ölüdeniz Beach):
Ölüdeniz (8.5 km south of Fethiye) is home to arguably Turkey's most beautifully situated beaches. There are two main beaches in Ölüdeniz, the first is Belceğiz beach the local beach of Oludeniz. Entrance to this beach is free but you pay for your sunbeds and umbrellas. Here the sea can soemtimes be wavey but is always clear and clean. Visitors can watch paragliders landing on this beach, or hire canoes in the sea. This is also the beach where the boat trips depart from.
The second beach to mention is Blue Lagoon beach (Kumburnu). This beach is incredibly beautiful and is located within the boundaries of a national park so a fee is charged for entrance. Here the sea is very shallow and calm so it is ideal for children. There are restaurants and bars on the beach where you can have your lunch.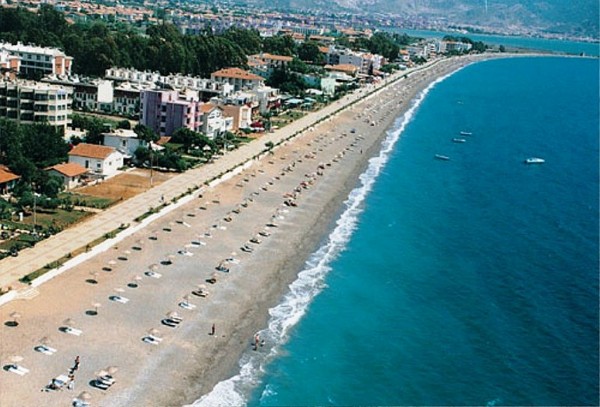 Çalış Beach:
The wide swath of Çalış beach, several kilometers long, is only 5 km northeast of Fethiye city centre and is full of restaurants and bars offering service day and night. This beach has a great atmosphere and is a very popular beach for tourists due to it's breezy climate ideal for windsurfing and kite flying with lessons are available for a fee. The beach can be accessed by the local Dolmuş bus service which runs very regularly through the day and evening or by water taxi which take guests to and from the city centre. Close to Calış beach is a small natural park know locally as the 'Bird Sanctuary' and the beach is a spot for loggerhead turtles to lay their eggs, these beautful creatures are often spotted in the waters at Çalış beach.
Karataş Beach
There are no facilities at this particular Fethiye beach so it is more popular with locals who like to go for a barbecue or picnick with their families away from large crowds. For visitors who prefer a more peaceful visit to the beach and would like to see a glimpse of Turkish lifestyle Karataş beach is a great spot.
Akmaz Beach (Deniz Incisi Restaurant)
Not too far from the all-inclusive Barut Sensatori hotel, if you venture this far, you will have Akmaz Beach practically to yourself. Deniz Incisi restaurant serves up good traditional Turkish food and is usually open all year. There are beds and umbrellas available in summer for a fee.
Help Beach & Yatch Club
Help beach club, located in an idyllic white sandy cove shrouded by luscious pine forests, is a wonderful place to spend the day. This lively beach club offers a restaurant, bar, cafe and evening bar with the kitchen serving food from 09:00 to 23:00 and the bar serving until 03:00. Guests can play volleyball on the beach and a jetty for yatchs to moor is available. At night Help Beach hosts a range of entertainment including live music performances, dance performances and in- house DJ's. This is a favourite spot for arranging wedding parties due to it's beautiful surround and crystal water backdrop.
This club offers a shuttle service for a fee to Hisarönü, Ölüdeniz, Ovacık and Çalış.
Kuleli Beach Club
Kuleli Beach Club has a unique layout with a large lake at the centre of it's facitlities. Located in a secluded spot this club has sun loungers along the sea front on it's beach and charming Turkish Köşks (large covered seating groups with cushions) surrounding a small lake at the centre of the beach club. A large platform reaches out into the clean seawaters for visitors to walk along or jump into the sea. This beach club uses a card system for payments, you top up your card when you arrive and use this to pay throughout the day.