Every region in Turkey has it's own unique culture, distinct dishes and historical sites. With it's crystal clear waters, bustling town centres and idyllic villages, what better time to visit Turkey, but now?
Exchange Rate Increases mean More for your Money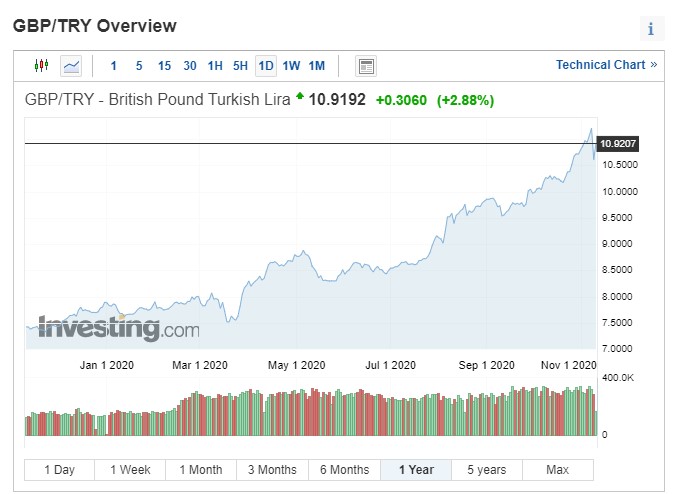 In the last year (08.11.2019 - 08.11.2020) the Great British Pound (GBP) to Turkish Lira (TL) exchange rate has increased by 40.3102%. Making it 11.0798 lira to the pound. This means foreign visitors to Turkey, who use USD, Euros or GBP, can not only afford to holiday for less, but also save money on meals out, souvenir shopping and excursion prices. Even the rates for staying in luxury accommodation is now much more affordable. At Baransel Villas we not only serve the foreign market, but also the Turkish market, keeping our villa prices competatively low; with many of our villas best price guaranteed.
Restaurant Prices and Supermarket Shopping
With food and drink prices remaining low, a meal out would cost a family of 4* around 300 lira, or just under 30 GBP. For those that would prefer to cook in the comfort of their own home, Turkey has a huge selection of open-air markets, neighbourhood bazaars, as well as local supermarkets, many of which offerr a variety of different food brands and prices. With a wide range of ingredients on offer, it's no wonder Turkey is deemed to have one of the richest cuisines in the World.
Speaking of bazaars, Turkey is the perfect location if you love to shop. With local markets held every week, there is sure to be something that will grab your eye. Whether it's an immitation designer handbag or handmade jewellery, Turks love to barain – so be persistant and you may go home very, very pleased.
What About Beaches?
If it's a more relaxed holiday you're looking for, then look no further. Turkey has over 400 blue flag beaches and over 8,000km of coastline, making it an ideal destination for beach holidays. Perhaps one of the most well-known beaches being the Blue Lagoon, or its official name Ölüdeniz, literally translating to ''dead sea''. Parts of Ölüdeniz are free for visitors to use, bring a picnic lunch and swim in its turquoise blue sea. Some day visitors prefer to make use of it's many cafes and restaurants along the promenade. As well as this Turkey is home to many natural beauty spots: Butterfly Valley, Pamukkale and Cappadocia being a few to name, and all of which are popular among the snappy happy photographer.
Travelling In Turkey
Public transport in Turkey is an affordable way to get to and from most places, with public buses, metros and ferries available; it is no wonder these still stand as the most popular form of transportation. Even, taxi prices have remained low for visitors coming from foreign countries. Whichever form of transport you choose to take, be sure to do your research online before arriving, you may also find car hire firms offering discounted prices during Winter months.
From paragliding over Ölüdeniz, diving and searching for underwater wildlife in Kalkan, or simply enjoying the quiet life in Kaş; there is sure to be something for everyone. Whatever it is you want to tick off your bucket list next, be sure to do it in Turkey!
*based on a standard meal out for 2 adults and 2 children